"And without faith it is impossible to please God, because anyone who comes to him must believe that he exists and that he rewards those who earnestly seek him." Hebrews 11:6
We don't know her name.  The woman who touched the hem of Jesus' robe and was healed had just a brief encounter with Him that day so long ago.  Thankfully, a brief encounter with the Savior is all that's necessary for a change that will last an eternity.
I've been thinking about her for months now, wondering what her life must have been like.  It's hard to comprehend the shame and despair that must have hung on her each day.  She'd been bleeding for 12 years…12 years of being considered unclean.  Unable to attend celebrations, unable to touch or be touched.  She'd been cast aside and overlooked.  I imagine she tried everything only to find the hope that accompanied each new treatment lead to further despair at their failure.  No one could heal her.
No one could heal her except Jesus!
With a touch of faith and the touch of his robe, she was healed.  Not only was she healed but for the first time in a long time, she was noticed!  Oh, how our hearts long to be noticed…to be truly seen and she was.  The one who'd been cast aside stood before the King of Kings and was commended for her faith!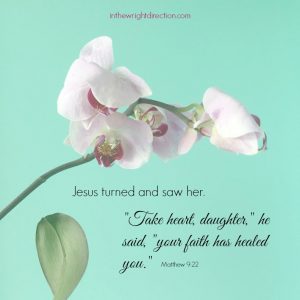 It was against the law for her to touch anyone and yet she was healed with a touch!
She'd been called unclean but He washed her white as snow!
She'd been isolated from her family but He called her daughter!
The doctors called her hopeless.  He called her healed!
No, I don't know her name and yet I pray to be like her.  To have faith bold enough to believe against all reason not to.  It took courage for her to approach Jesus that day. It was illegal for her to even be in the crowd but she refused to let anything stop her from reaching out to the Savior.
What's stopping you?